Shortly before Alex Cole-Hamilton became leader of the Scottish Lib Dems last year, Private Eye published a story about his garden shed. The magazine had picked up on an entry in the MSP's register of interests where he declared income of up to £ 10,000 a year from letting out what is perhaps more accurately described as a cabin behind his Edinburgh home.
In a city in the grip of a housing crisis where short-term lets have been blamed for putting further pressure on supply, it could have been politically damaging for Cole-Hamilton. But it didn't thwart his leadership ambitions – after all, he was the only candidate in the running for the job.
"That was a passing scandal," Cole-Hamilton laughs when I meet him in his office at the Scottish Parliament. There are posters of Obama and JFK on the wall, as well as large Ukrainian and EU flags – all very on-brand.
"The cabin became a story because I chose to put it in my register of interests, I chose to name Airbnb as a company – I wanted people to be absolutely clear that I was associating with because the parliament is passing laws on short- term lets. I was one of the leading MSPs calling for regulation on short-term lets. "
In the coming months, the MSP and his family hope to put the cabin to good use, offering a refuge to those coming to the UK under the Homes for Ukraine scheme.
"We have to honor the existing bookings up to the summer, but we have already registered with Homes for Ukraine and look forward to welcoming a Ukrainian family or an individual into our lives. I would hope that in their first few weeks here, we would integrate with them a bit and that they would eat with us and watch telly with us, but the cabin allows them a bit of space as well. "
Since being named leader of his party last August, Cole-Hamilton has used his platform to raise the sorts of issues which are often shamefully overlooked in our constitution-obsessed politics, such as children's mental health and the impact of long Covid.
He talks about a "clash of nationalisms" which is holding Scotland back.
"Unfortunately, the Tories and the SNP are still locked in this toxic death spiral over another referendum. It's time to move on – people want us to move on, "he says.
I ask him if he thinks there will be another independence referendum next year, as promised by the SNP. "No. One hundred percent, no. I've always thought the First Minister is in a bit of a corner. She's a pragmatist, she knows there's not solid enough support for her to pull the trigger on a second referendum.
"It's all been defused by the severity of what's happening in the world and everything else just feels far less important."
He says Nicola Sturgeon's electoral mandate for a second referendum is "tainted" because of promises she made to voters during the election campaign that a vote for the SNP was about stability during the pandemic and didn't necessarily reflect a desire for a second vote on independence.
"A huge number of SNP voters did not do so because their number one priority was a second referendum," he says.
But how do Cole-Hamilton and his colleagues shift focus at Holyrood back to the issues which really matter in the here and now, the rising cost of living or NHS waiting lists, for example?
Despite a lot of talk about the Lib Dems and Labor working more closely following the election, there has been little evidence of it actually hapening. Despite that, Cole-Hamilton says his party remains committed to working with others to head off the threat of a second referendum.
"Anas Sarwar is one of my closest friends in politics; we speak the same language on a lot of things and we get on like a house on fire, "he says.
"But there are many reasons why I am not a member of the Labor Party and he is not a member of the Liberal Democrats. We are very distinctive [parties] and have distinctive offers, yet I can see more common ground with Labor than with other parties and we will seek to explore that. "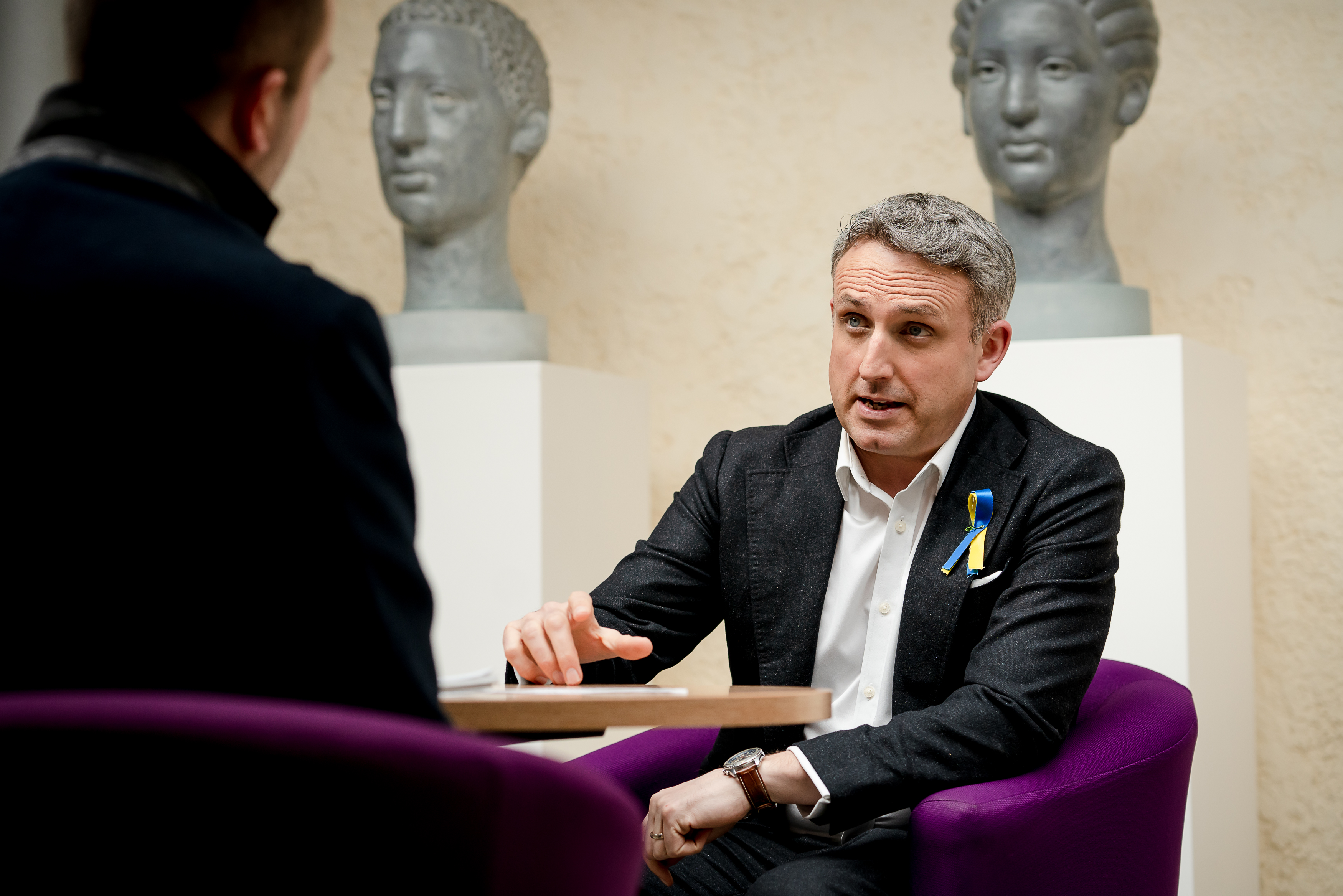 Cole-Hamilton has repeatedly raised the issue of long Covid at First Minister's Questions after one of his constituents, a civil servant, got in touch to tell him about the impact the condition – often characterized by overwhelming fatigue – has had on his life.
Unlike England, Scotland has not yet set up specialized clinics for dealing with long Covid, and the Lib Dems recently used Freedom of Information laws to show £ 10m earmarked for treatment by the Scottish Government last year has yet to be spent.
He also spoke out last year about the impact of being a member of the committee which looked into the Scottish Government's handling of complaints against former First Minister Alex Salmond on him personally. Cole-Hamilton was part of the cross-party group which ultimately found that Sturgeon had misled parliament over the affair but stopped short of saying she did so knowingly.
Cole-Hamilton says being part of the committee was "a very dark experience," requiring huge amounts of work that took him away from his family and his other duties as an MSP.
"You felt like you were refereeing an internecine civil war within the SNP – not a job I thought I had signed up for," he says. "I asked to be assigned to it in the first place because I thought a horrendous injustice had happened to the women at the heart of the complaints and they had failed.
"I realized quite early on in the experience that it was unlikely the inquiry would get anywhere in particular, but it was just picking at that sore. It was causing more anxiety to the women at the heart of the complaint. The whole thing just felt tawdry and grim. "
Shortly before the committee was due to publish its long-awaited report in March last year, parts of it were leaked to the media. While some initially pointed fingers at Cole-Hamilton, others accused SNP members of the committee.
Last month, former Green MSP Andy Wightman, himself a former member of the committee, said he believed an SNP member had leaked the findings to allow others in the party to "trash" the committee's work ahead of the full report being published.
"To be honest, I've tried to put a lot of this behind me," Cole-Hamilton says. "I know I didn't leak it and I've spoken at length to my fellow opposition members, and I trust them when they tell me they didn't, so that only leaves the SNP. I've just resolved not to give this too much more headspace. "
Like every other main political party in Scotland bar the Tories, the Lib Dems went into last year's election pledging to reform the Gender Recognition Act to make it easier for trans people to change the sex on their birth certificate.
As an Edinburgh MSP, Cole-Hamilton faces some high-profile opposition to the plans from local residents including JK Rowling, who argues that reforming the GRA will put vulnerable women at risk by allowing those who are biologically male access to female-only spaces – something proponents of the legislation reject.
"We will vote for the bill," he says. "We can see the GRA as it stands is harming people every day. But I also regret very much the hate and the heat that has crept into this debate.
"As this bill transits through parliament, you will hear from my tone and that of other Liberal Democrats a desire to effect this change without canceling somebody's right to express a different view. It's down to the SNP having long-grassed this for such a period of time that it's festered in our community and they've lost control of that, to a certain degree. "
Cole-Hamilton says GRA reform has been "conflated" with the wider debate around women's safety.
"I don't want to dismiss the concerns of people who come to the table and raise those points," he says. "Some of the concerns about safety are overstated – this won't change who's allowed to access a female toilet in a shopping mall, for example.
"But at the same time, I would like to discuss in an atmosphere of respect those concerns as they come forward – I wouldn't just want to dismiss them as illegitimate, that feels like canceling somebody."
Cole-Hamilton on the campaign trail with former leader Willie Rennie
I ask Cole-Hamilton if he were to discuss the issue with Rowling, would he, respectfully, tell her she's wrong?
"I would like to have a longer chat with JK Rowling about that. I want to understand from where those views come. I don't agree with her, but it's not for me to say someone is wrong. I'd like to have a meaningful discussion. I would perhaps ask her to reflect on some of the leaps that have been made in association to what we're trying to do in parliament.
"If you just say to someone they're wrong, you almost concede your argument; you need to present evidence… I very much regret cancel culture – it's not a liberal place to be. "
On the subject of liberal places to be, I ask Cole-Hamilton about whether there is a "toxic culture" in his party, as reported in The Times earlier this year. The newspaper spoke to Emma Walker, a former staffer, who has made a number of allegations against the party, including claiming there were instances of "racism, bullying and sexism". Cole-Hamilton himself made an apology last year after swearing at then children's minister Maree Todd on a video call during a parliamentary committee.
Does the party have an issue with bullying?
"No, not that I'm aware of," says Cole-Hamilton. "Any time it's been suggested that we have, it's been directed to the complaints process. We actually recently overhauled our complaints process in the last couple of years and it's very robust and functions well.
"I think it's fair to say that in any political party, tensions always run high, especially at election campaigns. Sometimes people don't treat each other with the respect they deserve, but I don't think the Liberal Democrats are any different from any other political party.
"Any complaints that have come forward about anybody in our party are always dealt with appropriately and handled independently. We are proud of our robust complaints handling process. So no, I don't think there is a toxic culture of complaints in the Lib Dems. "
Despite only being in charge of his party for a few months, Cole-Hamilton believes he has a strong platform from which to build, thanks in large part to the work of his predecessor, Willie Rennie. The new leader is confident going into next month's local elections.
"Nobody is talking about our extinction anymore," he says. "I've spent the last seven months focusing on what will be our first electoral test – the council elections. I was anxious we wouldn't necessarily go forward in this election, but I'm now confident we will. "